Free Trial - Media Suite 12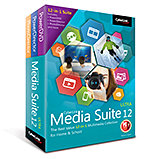 Download Information
Product Information
System Requirements
Download Info
Language(s): English, Chinese (Traditional), Japanese, Spanish, Korean, Chinese (Simplified), German, French, Italian
Release Date: 2014-07-17
30-day trial
File Size : 1733.41 MB
Limitations
30-day trial version
Trial does not include H.265 (HEVC) support
Importing and producing H.264 video files is only supported on Windows 7/8 systems or hardware platforms offering independent H.264 encoding and decoding
Playback

Trial does not support the playback of CPRM protected content.

Video editing

Videos created with trial version include a 5 sec watermark at the start.
Limited SmartSound Library features in trial version.
Note: The applications in Media Suite 12 trial version are based on the Media Suite 12 Ultimate edition, but do not include the extra content packs and mobile apps. Some features of PhotoDirector in this trial version are not available in Media Suite 12 Ultra. Premium features of Power2Go in this trial version are available for 15 days, after which you have the opportunity to purchase Power2Go 9 Platinum. Beyond 15 days, Power2Go features are limited to those available in Power2Go 9 Essential. Some features of Power2Go in this trial version are not available in Media Suite 12 Ultra/Ultimate. For detailed features of each version of Media Suite 12, please refer to the comparison table on CyberLink.com