Free Trial - PowerDVD Live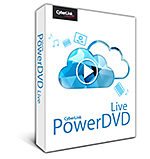 Download Information
Product Information
System Requirements
Download Info
Language(s): English, Chinese (Traditional), Japanese, Spanish, Korean, Chinese (Simplified), German, French, Italian, Russian, Portuguese (Brazilian), Dutch, Portuguese
Release Date: 2013-10-08
Limitations
30-day trial version.
VC-1/H.264/Blu-ray format playback in the trial version is limited to systems with hardware acceleration.
Does not support the playback of CPRM/DTCP-IP protected content.
Does not support USB Sync and Home Media Server.
A CyberLink account is required to access CyberLink Drive features (CyberLink Drive is limited to users in the US, Canada, UK, Australia, and New Zealand).
2GB of free storage in CyberLink Drive is provided during the trial period.
Media content in CyberLink Drive may be deleted when the trial expires.
CyberLink Drive for PowerDVD Mobile is not supported in the trial version.
Purchase Options
PowerDVD Live
Annual Plan - BEST VALUE
12-month subscription ($3.79 / month)
Quarterly Plan
3-month subscription ($5 / month)