Create your own version of your favorite movies in the Movie Remix room
You can create your own versions, parodies or movie trailers of your favorite movies in the Movie Remix room of CyberLink PowerDVD 8. Your Movie Remixes can then be uploaded to the MoovieLive web site and shared with other movie fans.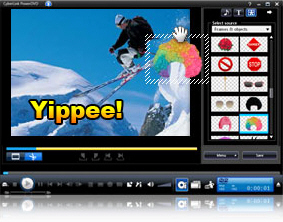 The Movie Remix room lets you get as creative as you want when creating a Movie Remix. You have full control over the editing of scenes. You can also add effects, such as text, objects and music, to customize your own version of the movie.
CyberLink PowerDVD now gives you the chance to really sit in the director's chair and create your own version of your favorite movie.
Note: The original movie disc must be in your disc drive and CyberLink PowerDVD 8 must be installed on your computer to create and play back Movie Remixes.
Movie Remix Tutorials
If you are not sure how to get started or how to create a Movie Remix, we have created some tutorials to help you out. You can also take the Movie Remix Tour.

Marking Scenes

The first step in creating a Movie Remix is to select the scenes that you want to use. You may select as many scenes as you want from a particular movie.
Adding Effects

Once you have selected your scenes you can begin adding different effects, including music, text and many different types of objects and images. The amount and type of effects you add is up to you. This is where you can begin letting your creativity come out.
Adding Audio

Adding audio to your scenes can bring attention or life to a particular moment through the use of background music. You can also record your own custom audio for use in a scene. Use this feature to record a voice over for your Movie Remix.
Uploading & Downloading Movie Remixes

Once you are done creating your Movie Remix and you are satisfied with how it turned out, you can share it with your friends on the MoovieLive web site. You can search for, download and import Movie Remixes that were created by other users.
See Also
You can also learn more about the Movie Collection within CyberLink PowerDVD 8, by viewing the Movie Collection tutorial.