Product FAQ
How do I play Blu-ray/DVD ISOs in CyberLink PowerDVD 15?
To playback ISO files, please follow the steps.
Browse and find the ISO file in CyberLink PowerDVD, either in the Movie Library or via the My Computer tab.

Select the ISO you want to play and then click on the play button.
CyberLink PowerDVD displays a message asking you to install the required driver.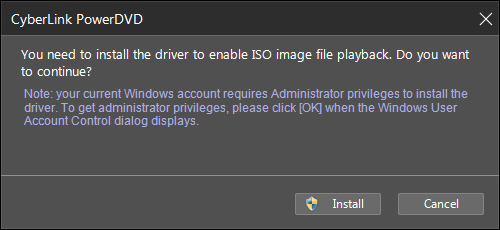 Click on Install button and then Yes when prompted in the User Access Control dialog.
CyberLink PowerDVD will start playing the ISO file once the driver is installed.
Note: once the driver is installed, you won't be asked again to install it. CyberLink PowerDVD 15 will automatically start playing an ISO file the next time you want to play one.
Was this information helpful to you?