CyberLink Media Suite 10 Free Trial Download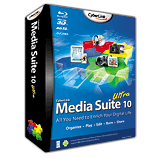 Download Information
Product Information
System Requirements
Download Info
Language(s): English, Chinese (Traditional), Japanese, Spanish, Korean, Chinese (Simplified), German, French, Italian
Release Date: 2012-11-05
Limitations
30 day trial limitations.
Playback

Does not support the playback of CPRM protected content.

Video editing

Watermark at the beginning of produced videos (5 sec).
SmartSound Library, trial version only.

Video converting

No H.264 format supported.

The Trial applications in Cyberlink Media Suite 10 are provided on the basis of the Media Suite 10 Ultra edition. For detailed features in each variant, please refer to the comparison table.
Purchase Options
Media Suite 10
Ultra SAVE $40


$129.95
$89.95

Pro SAVE $30

$99.95
$69.95