Editing at High Velocity

Providing greater accuracy and speed.
CyberLink RichVideo (CLRV)
| | |
| --- | --- |
| CyberLink RichVideo is an advanced technology designed to save precious video editing time by storing initial video analysis for future references. The first time you detect scenes or perform Magic Cut with CyberLink PowerDirector, video analysis information will be collected and stored, eliminating the process to be repeated again. When you browse for video files next time, you can view previously cut or detected scenes to quicken the video selection process. | |
CyberLink RichVideo also lets you include onscreen video information such as time, date, personal comments (e.g. geographic location, live event, TV channel or series) during capturing. These smart captions also utilize CLRV technology.
Click here for more information
Precise-Cut Technology
Precise-Cut Technology gives users ultra-control over the editing process by offering a precise method of trimming unwanted sections of video frame-by-frame. Video can be trimmed using the Media Editor window by magnifying a section of video on the trim bar. This function makes it ideal for editing long or complex video clips.

The Media Editor is a large, resizable preview window that offers a scalable timeline. Users simply click to enable the Precise-Cut magnifier and click to zoom in or out on the timeline.
Smart Video Rendering Technology – SVRT™
Experience SVRT with the following CyberLink products:
| | |
| --- | --- |
| SVRT is a proprietary technology from CyberLink that intelligently recognizes the portions of a movie clip that have been modified, and then only renders those portions during production, not the entire clip. Users not only save time, they also preserve the original quality of their video. | |
Using SVRT, CyberLinks' products render MPEG-1, MPEG-2, and DV-AVI video faster than other software on the market, because most software typically renders an entire video even if only a single frame has been modified.
Click here for more information on SVRT in its 2nd generation
SVRT 1. CyberLink's original patented rendering technology, the SVRT engine rendered MPEG-1, MPEG-2, and DV-AVI video faster than any other software on the market.

Top

SVRT 2. Recently released, the improved SVRT engine breaks movie clips into their component video and audio parts, renders video separately from the audio track (and then merges the two streams later) to make the process even faster. SVRT 2 renders only the audio or video portion that has been modified. This further reduces the amount of time needed for production.
CyberLink's SVRT is available during production when the frame rate, frame size, and file format of each clip are the same. The bit-rate should also be similar. In this case, SVRT is used to render the files. If any clips do not meet the above criteria, they are fully rendered without SVRT.
SVRT™ 1 Diagram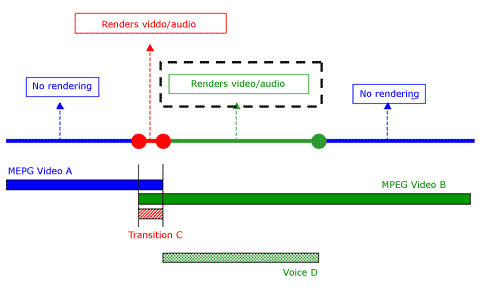 SVRT™   2 Diagram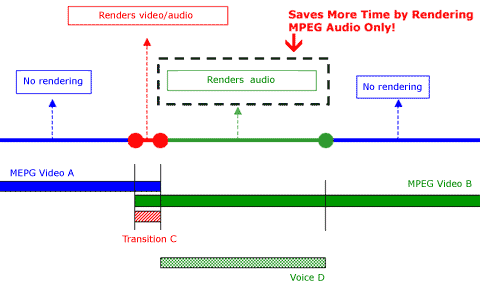 Top
Capturing
Editing
Authoring
Burning
Video Playback
Audio Playback
Precise-Cut Technology
SVRT™
SVRT™ 1
Diagram
CLRV