Please ensure your CyberLink PowerDirector is up-to-date. You can check software updates from below page:
https://www.cyberlink.com/support/powerdirector/patches_en_US.html
Update the graphics card and audio card drivers of your computer. If you are using an AMD / NVDIA / Intel graphics card, you can download latest driver from AMD / NVIDIA / Intel's web site. If you have any problem with installing graphics card drivers, please contact your computer manufacturer or the manufacturer of the display and sound cards for latest drivers.
Please check whether the drive where you have installed PowerDirector software has enough space on it. This is because large amount of memory space is required for buffering.
Make sure that you logged in as an Administrator.
Sometimes it might be due to other 3rd party codecs installing QuickTime alternative codec that cause the problem. Please follow the steps below to re-install QuickTime software:
Remove QuickTime from [Control Panel] (Please do not skip this step.)
Run QuickTimeInstaller.exe within CyberLink PowerDirector installation files.
If you purchased the download version, you can first uncompress your PowerDirector installation .exe file then find QuickTimeInstaller.exe under the uncompressed folder.
If you purchased the retail box version, you can open your installation disc folder then find QuickTimeInstaller.exe under PDIR folder.
Sometimes there may be some problems during the installation. You can try to remove CyberLink PowerDirector from [Control Panel], restart your system, and then re-install the program again. Please ensure you close all other applications while installing CyberLink PowerDirector.
If you still can't resolve the problem, you can contact CyberLink Technical Support. Before contacting Technical Support, please prepare and include the information listed below. The more info you provide, the more we can understand your issue and better service will be provided.
If you see the CyberLink Issue Reporter after PowerDirector stops working: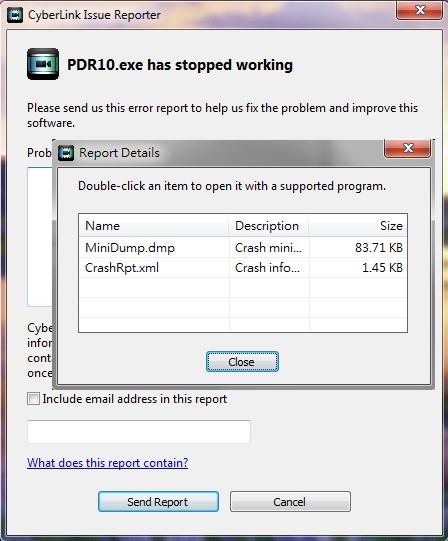 1. Take a screen capture of the error message:
Click on the "What does this report contain?" link, and you will see the Report Details window.
Take a screen capture of the entire screen and save as a .jpg file
Click "Close" and then the "Send Report" button.
2. Send us the CyberLink Issue Reporter log file:
Find log files:

Windows 7/Vista: C:\Program Data\CyberLink\Boomerang\PDR10
Windows XP: C:\Documents and Settings\All Users\Application Data\CyberLink\Boomerang\PDR10

Zip the PDR10 folder, which includes MiniDump.dmp and CrashRpt.xml files as .zip.
3. Send the log (.jpg and .zip) to us
If you didn't see the CyberLink Issue Reporter after PowerDirector stops working:
Please send the Event Log information to us. You can view the article below for information on how to generate event log information:
How do I Provide Event Log Information?