Product FAQ
What is CyberLink PowerStarter?
CyberLink PowerStarter provides access to all CyberLink products in one single, easy to use user interface. With CyberLink PowerStarter you can access any function easily, instead of searching through your programs to find the CyberLink product you need.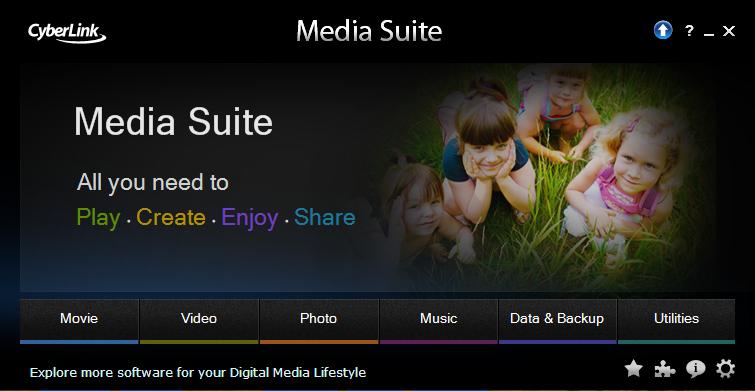 The following functions are available in CyberLink PowerStarter:
Movie: Watch movies on DVD, Blu-ray Disc, or as movie files. It also allows you to browse movie information via the Internet.
Video: Author movies, edit videos, convert video, and create video DVD discs.
Photo: Edit and author slideshows. It also allows you to create photo gallery discs.
Music: Create music discs, rip, convert, and edit your music. It allows you to create music CDs/DVDs, rip audio CDs to hard drive, convert music formats, and edit audio.
Data & Backup: Burn data, movie DVDs or Blu-ray Discs. It allows you to back up and restore your PC.
Device: Transfer your media. It allows you to convert your music, video, photo to popular formats and transfer it to your device.
Utilities: More utilities help create your discs. It allows user print disc label, create/burn disc Image, and re-edit video discs.
You can also check for product patches and upgrades in one simple step. Just click

button. You can check free update and upgrade software of all products in CyberLink Media Suite.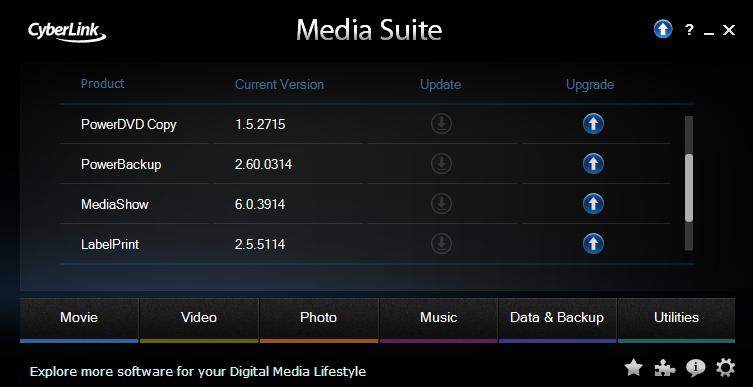 Was this information helpful to you?