Phone Support
CyberLink's product help and members forum include step by step instructions that can answer many of the common issues you may encounter using our software. If you do not find the answer you are looking, please send us an e-mail using Technical Support. To ensure prompt technical assistance over the phone by purchasing: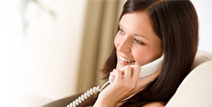 Two Months Phone Support Package (TSID #) for only US$29.95
Our phone support package provides you with a TSID (technical support ID) number and unlimited priority assistance during calling hours for a period of two months. Please note that this service is for USA/Canada users only. For all other countries international calling rates apply.
Or, get free phone support here for product download and installation issues
11:00 AM - 8:00 PM (CST)

The phone lines are open Monday to Friday
09:00 AM - 6:00 PM (PST)
12:00 PM - 9:00 PM (EST)