What is Ultra-HD Blu-ray?


Ultra HD Blu-ray is the latest iteration of Blu-ray disc technology and is rapidly being adopted by film makers and multimedia content creators. The format delivers unmatched 4K content, offering not only a significantly larger 3840x2160 resolution, but also a greatly expanded color range, provision of both high dynamic range (HDR) and high-frame rate (up to 60fps) content, and support for the latest object-based immersive sound formats.

Benefits of Ultra HD Blu-ray
Ultra HD Blu-ray delivers the following benefits to consumers when compare to other legacy media:
Can hold up to 100GB of data
Engages HDR for improved contrast and richer colors
Supports 4K (3840x2160) resolution
REC.2020 doubles the color space coverage (compared to Blu-ray)
More detailed pixel information at 10 bits per sample
Capable of double the frame rate compared to Blu-ray (60 fps)
Data rates of 144Mbps (double Blu-ray)
Video bitrate of 100Mbps
Storage capacity of triple-layer disc
8 bits to 10 bits

High Dynamic Range (HDR)
High Dynamic Range, commonly referred to as HDR, is a popular style of still photography that significantly reduces shadows and highlights in pictures. When applied to moving images, this can have an outstanding impact on the level of detail and realism of what is displayed.
Ultra HD Blu-ray supports HDR video, meaning that when paired with an HDR-capable TV viewers can enjoy truer-to-life picture color. This is thanks to the capacity of Ultra HD Blu-ray discs to store more information about each individual pixel, and the ability to transmit that amount of data to UHD TVs.
In addition, Ultra HD Blu-ray discs are able to transmit content that is mastered at up-to 10,000 nits, which results in brighter, less faded pictures when viewed on HDR capable TVs. Standard Dynamic Range (SDR) TVs are capable of displaying 100 – 300 nits, while modern HDR TVs output 1000 nits or above, meaning pictures that are 4-10 times brighter and more detailed. At the time of writing, no TVs are capable of generating 10,000 nits output, however with the rapid advances in technology it surely is only a matter of time before they become commonplace in the consumer market.
High Dynamic Range
Standard Dynamic Range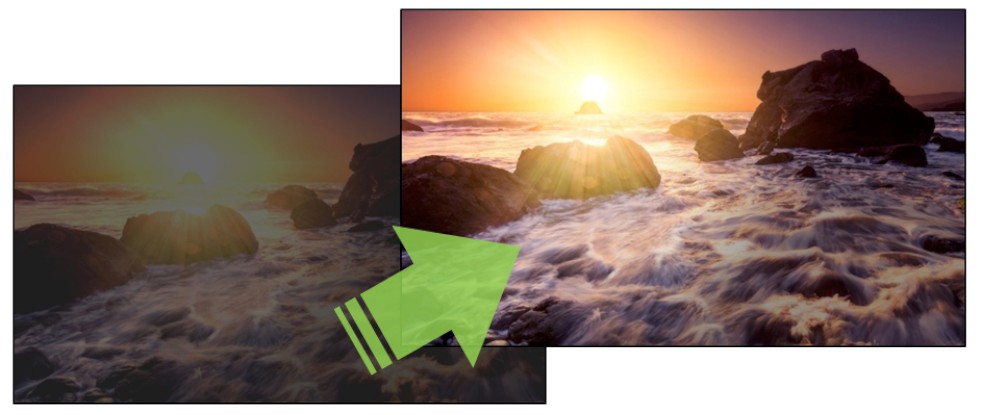 Is my PC Ultra HD Blu-ray ready?
Ultra HD Blu-ray disc playback on PC requires Intel® 7th Generation Core™ i5/i7 processors (selected models: KabyLake-S & KabyLake-H), Intel® HD Graphics 630 chipsets, as well as HDR, HDCP 2.2 and HDMI 2.0a compatible motherboards with Intel SGX support and displays, which are expected to ship in early 2017. An Ultra HD Blu-ray certified Optical Disc Drive is also required for playback of Ultra HD Blu-ray discs. Please consult your Optical Disc Drive manufacturer's website to see if your device is certified.
To find out if your PC is ready and able to play Ultra HD Blu-ray discs download the Ultra HD Blu-ray Advisor.
Top