Region Code Change
Are you looking to play DVD titles from different regions? Here's some information you about changing the region code on PowerDVD.
To avoid getting into a lengthy discussion here about region codes, I will refer you to DVDonet for a good article about what region codes are and how they impact your DVD viewing experience. Basically the world is broken down into 6 different regions. If your DVD-ROM is region locked then you will be restricted to playing DVD titles for the region you bought the DVD-ROM in. If your DVD-ROM is region free then you can change up to five times with PowerDVD.
For more information about which DVD-ROM's are region locked, check out this article.
Changing the Region Code in PowerDVD
The first time you insert a DVD title, to be played on PowerDVD, a small dialogue box will appear. It will set the region code to match that of the DVD title you wish to play. After this the program will be set. However, if you have a region free DVD-ROM drive, you have the option of playing DVD titles from different regions. PowerDVD will allow you to change the region code setting up to five times, and then it will be locked on the region you have listed on your fifth and last change. At that point you will only be allowed to watch DVD titles from that region.
To change the region code, from the original setting, just insert the DVD title in your DVD-ROM drive and run PowerDVD. When the software recognizes that the disc is from a different region than what was previously set, a dialogue box will appear (see image below). For this example, using my DVD-ROM and PowerDVD, you can see the Current Region is Region 1. As well, after changing from one region to another, I will have four changes left. The program detected the disc I inserted was from Region 2, so it selected this option. Once I click OK the Current Region will be changed to Region 2 and the DVD title will play.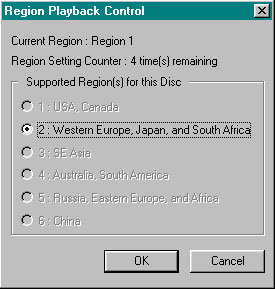 If you have any questions about this, or any other feature in PowerDVD, please click the link below and you will be taken to the customer support page: Take me to the Customer Support page