CyberLink Accelerated Media Solutions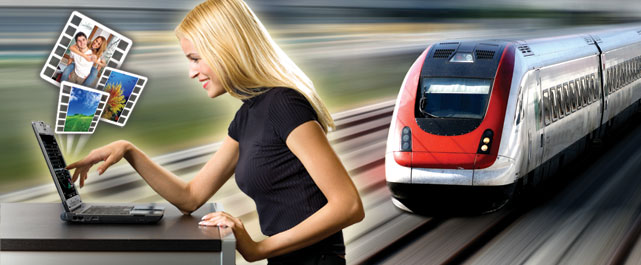 Leveraging the latest technologies for accelerated computing from Intel, NVIDIA and AMD, CyberLink has improved the performance of resource-intensive tasks such as photo face-recognition, DVD upscaling, and video decoding/encoding.


By incorporating the parallel processing technologies of the new 2010 Intel Core Processor Family, NVIDIA CUDA and ATI Stream, CyberLink maximizes available CPU and GPU power to deliver a significantly better user experience.
Accelerated Movie Playback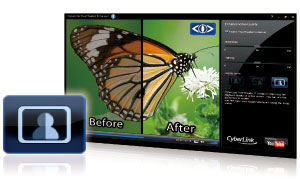 PowerDVD's TrueTheater HD technology utilizes a sophisticated upscaling algorithm to deliver sharper, artifact-free images when converting standard definition content to higher resolution.
With TrueTheater HD optimized for NVIDIA CUDA hardware acceleration technology, PowerDVD 9 ensures smoother HD-like performance for DVD movies by shifting the graphics processing from the CPU to NVIDIA's GPU.
Top
Accelerated Face Recognition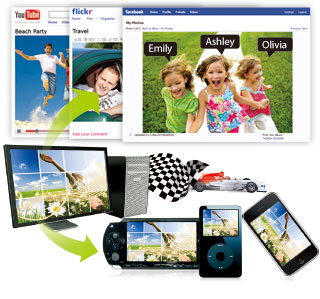 MediaShow 5's FaceMe™ Technology is optimized for NVIDIA CUDA technology to deliver faster sorting times. By leveraging the full power of NVIDIA's graphics hardware, consumers can analyze and sort through huge volumes of photos quicker than ever. A thousand photos can be analyzed in just 8 minutes. Once sorted, albums of people can be directly uploaded to Facebook, completing a seamless process of face tagging and sharing.
MediaShow's FaceMe™ Technology analyzes photos and identifies the faces in them, even if they are slightly covered or out of focus. CyberLink's advanced face-recognition technology ensures up to 95% accuracy and can identify people wearing sunglasses or shot at various angles.
Accelerated Video Production
PowerDirector and MediaShow are optimized for the 2010 Intel Core Processor Family, NVIDIA CUDA, and ATI Stream technology, delivering faster performance for video decoding, effects rendering, video transcoding, and vastly improved editing and previewing speeds.
CyberLink's optimization for hardware acceleration technology improves the speed and efficiency of the video production process, ensuring consumers spend less time waiting for their projects to be completed and more time sharing and enjoying them.
Top