Best Video Editing Software for Windows PC in 2023
The best video editing software options enable you to produce the highest quality videos in a reasonable amount of time.
Video editing has absolutely exploded over the last few years.
YouTube, TikTok, and other video-based social media platforms have taken over the airwaves, or should I say Wi-Fi signals. This has brought video editing to the masses. Everyone wants to cut a perfect video to share. And this year as more people have begun spending more time and working from home, video editing software has been growing in demand.
There are plenty of different editing programs available that include different features and price tags. With so many options, comes the challenge of finding the best software for you that's within your budget.
We have crafted the ultimate list of best video editing programs. If you are a beginner, full-on professional, or someone in between, you'll find a great option below. Read on to find the perfect video editing software for you.
Top 3 Windows PC Video Editors for 2023
When it comes to straight-forward, simple video editing platforms, Cyberlink's PowerDirector 365 is at the top of the list. This program offers a comprehensive pack of free features, along with affordable add-ons, to satisfy editors ranging from beginners to seasoned pros. If you are looking to start your own YouTube channel or cut together some home movies this is the editor for you.
2. Adobe Premiere Pro: The Best Choice for Professionals
Adobe knows how to make quality creative programs and Premiere Pro is no exception. As a professional industry-standard, Premiere Pro provides all of the tools that expert editors need.
3. DaVinci Resolve: The Best Video Choice for Color Correction and Audio
There is no denying DaVinci Resolve is an incredibly powerful video editor. Designed best for working with Blackmagic camera footage and specially designed DaVinci hardware this is a great choice if you are willing to put in the time and have the dedication to learn it.
8 Best Video Editing Software for PC
1. PowerDirector 365 - Best video editing software for anyone
Free Version: PowerDirector offers a full-function free version which includes a watermark in exported videos and limited export formats.
Minimum system requirements: Windows 7 (64 bit); Processor: Intel Core i-series or AMD Phenom II and above; Storage: 7 GB available; Memory: 4 GB RAM; Sound card: Windows compatible sound card
Pros:
Affordable price starting less than $5 a month.
Easy learning curve to get you editing in no time
Fully loaded with basic and premium features
Over 3,000 built-in transitions, templates, and overlay effects.
Multiple updates throughout the year including new, exclusive features and creative packs
Simple but powerful plug-ins for creating collages and turning your videos into animations
Advanced tools for creating effects based videos
50 GB storage on Cyberlink Cloud
Cons:
Thousands of premium templates included in the subscription version, however, if you want to download all the extra content it requires a few GB of storage
PowerDirector offers easy-to-navigate features for beginners, expert editors, and everyone in between. It includes professional tools that won't break the bank but can turn your videos into Hollywood-level works of art.
Users new to the editing world will appreciate the program's intuitive interface and free video tutorials that walk you through its features step-by-step.
This program includes features such as:
Over 3,000 video effects, overlays, titles, and transitions
iStock video and photo library integration
Ability to save videos to a hard drive in several formats, publish to YouTube, or share on Facebook
Square and vertical aspect ratios for social media clips
Motion-graphic titles
Drag & drop effects
Storyboard, timeline, and slideshow interfaces
Access to a library of free tutorials
2. Adobe Premiere Pro
Best video editing software for Professionals
Free Trial: 7 days
Pros:
Professional-quality tools and interface
Compatibility within Creative Cloud
High-quality option for Windows users
Cons:
Steep learning curve especially for beginners
Requires a quality computer
Expensive / subscription-based
If creating video professionally is your thing, Adobe Premiere Pro is the tool you need to be using. This program is an industry-standard, and professionals use it to produce content for mainstream media. The range of features and professional-level quality makes the hefty price tag worthwhile.
Premiere Pro features:
Precise editing and trimming tools
Automatic functionality
Advanced editing features
3. DaVinci Resolve
Best video editing software for color correction and audio
Pros:
Multi-user collaboration options
Intuitive interface
Cross-platform capabilities
Cons:
Steep learning curve
Needs a powerful computer
Cannot export directly to social media
Operates best with specially designed expensive hardware
For a free program, DaVinci Resolve offers incredible high-end features that go above and beyond simple editing tools. Designed for professionals the program's detailed color correction allows you to adjust skin tones and eye color, and its audio production options are quite extensive.
DaVinci Resolve features:
Quality audio editing tools
Color correction
Fusion editing modules
4. Corel VideoStudio Ultimate
Video editing software for Windows users on a budget
Compatible with: Windows
Free Trial: 30 days
Pros:
Easy to use and learn
Unique, aesthetic interface
Inexpensive
Cons:
Atypical interface for advanced editors
Corel VideoStudio Ultimate is a basic editing program that enables Windows users to produce high-quality videos for an affordable one-time price. Its unique interface is easy to learn, so beginners can pick it up quickly without knowledge of other systems.
Corel VideoStudio Ultimate features:
360-degree editing options
Excellent 3D text support
Thousands of advanced effects
Split-screen video features
5. Pinnacle Studio
Video editing software for moderate budgets
Free Trial: 30 days
Pros:
Clean and simple interface
Affordable
Built-in tutorials
Cons:
Limited advanced features
Pinnacle Studio is a simple program that includes easy-to-use features for beginners. It costs around $50 to download but incorporates thousands of effects and tools beyond what you could find in a free program.
If you aren't ready to commit to the price, you can use the program for free for 30 days. Users looking to perform simple edits or create videos for fun will find that Pinnacle offers everything they need.
Pinnacle Studio includes features like:
Stop-motion animation
1,500+ effects
Multi-camera compatibility
6. Hitfilm Express
Video editing software for professionals on a budget
Free Trial: Hitfilm Express is free, but you can pay to add on additional features.
Pros:
Free professional features
3D effects support
Affordable add-ons
Cons:
Tricky interface to learn
Hitfilm Express is a good choice when it comes to premium, professional software that won't break your budget. Most of its features are free but it does require some time to learn.
Hitfilm Express features advanced editing options like:
Layers and masking
Range of import formats
180+ editing effects
7. Adobe Premiere Elements
Video editing software for absolute beginners
Free Trial: 7 days
Pros:
Simple interface
Artificial intelligence features
4K support
Cons:
Can run slowly with heavy use
Has limited functions
Premiere Elements is Adobe's basic video editing software. Users who are new to video editing or are looking to edit videos for fun will find the interface easy to navigate with all of the necessary features. Even better, the program's AI tools walk you through some of the steps of the video editing process.
Premiere Elements includes features such as:
A decent selection of effects
Smart functionality
Video stabilization options
8. Nero Video
Video editing software with advanced exporting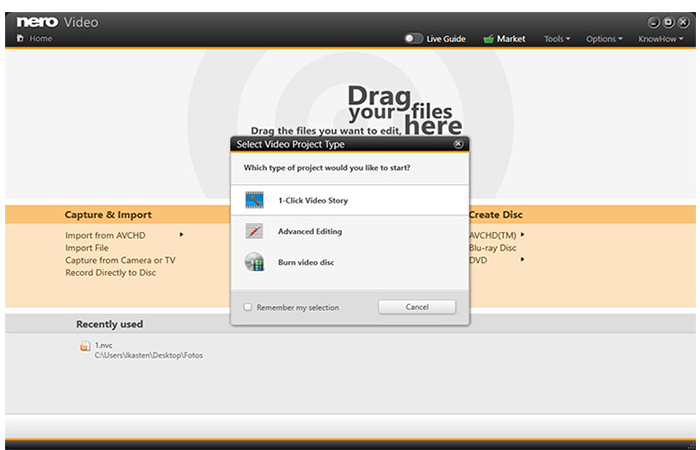 Compatible with: Windows
Free Trial:
14 days
Pros:
Affordable
Export to DVD with disc menus
Variety of editing effects
Cons:
Clunky usability
Requires time to master
You may not have heard of Nero Video, but don't knock it until you try it. This little-known program falls into an affordable price range and offers various video creation and editing tools, along with advanced exporting and playback features.
Choose from a variety of professional templates and effects to create professional-quality videos, then export your film to DVD with high-quality menu and chapter selections.
Nero Video features options such as:
Keyframe animations
1-Click Video Story
1000+ movie templates
Best Video Editing Software FAQ
What do most YouTubers use to edit their videos?
The best video editor for YouTube comes down to what features you feel you need. Some YouTubers use professional software like Adobe Premiere Pro and DaVinci Resolve while a lot opt for a good in-between program like PowerDirector 365. PowerDirector has a unique balance of professional results while being easy to use. Knowing how to utilize your program is just as important as having the best editing software for YouTube. You can make excellent videos with the affordable programs on our list, though the advanced ones do have their benefits.
What is the best video editing software for beginners?
Several of the programs above are suitable for beginners. PowerDirector and Adobe Premiere Elements all utilize simple, easy-to-navigate platforms, and you can find tutorials for many of their editing techniques.
Final Thoughts
You can't go wrong using any of these programs; they all include the basic features you'll need to create a quality video along with several advanced tools. Some are better for professional editing, while others are more suitable for hobbyists or beginners. Thankfully, many offer free trials or are always free, so you can test the waters before you invest.
However, becoming comfortable with a program's features is just as important as choosing the right one. Any of these software options can create amazing videos if you know how to use them.
Download PowerDirector 365 today to begin your video editing journey, then check out our other programs to edit photos, watch movies, and more.
Was this article helpful?
Recommended Products:
PowerDirector 365

Professional Grade Video Editing.

PhotoDirector 365

The Best Photo Editing Software for Windows and Mac!