Awards and Reviews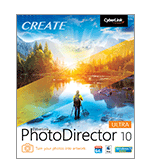 PhotoDirector 10
Turn your photos into artwork.
The Definitive Creative Solution - Whether you're working with the latest 360˚ or DSLR camera, or just a simple point-and-shoot device PhotoDirector has everything you need.
Precision Photo Editing - The refinements we've made to our editing tools allow users of all levels to take greater control when editing their photos.
Creativity Made Easy - The shortcut to creating impressive, engaging photos with Express Layer Templates and Content-aware editing.
Amazing Photos from Video - Go beyond what you thought was possible. Take the perfect picture from your videos or create impressive multi-exposure images.
Eliminate the Learning Curve - With a host of new point-of-use video tutorials you'll never find yourself struggling to fulfill your creative visions.
Award of PhotoDirector

"CyberLink PhotoDirector 10 builds on an already solid base, adding impressive AI-powered style tools, improved layers, and a small collection of other options that will speed up your workflow." TechRadar, UK, 09/2018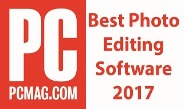 "You can have a lot of fun at a reasonable price with CyberLink PhotoDirector." "[PhotoDirector's] interface is well thought out, and it has all the standard photo-editing tools, along with a bunch of cool extra goodies." PC Mag, US
"PhotoDirector, CyberLink's photo-editing software, always impresses with its clear interface and quick operation. It's an affordable tool that gives Adobe a run for its money in photo workflow and editing software" PCMag, US, 10/2016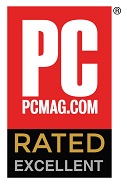 "PhotoDirector...always impresses with its clear interface and quick operation." PC Mag, US, 10/2016

"FileHorse visitors rated PhotoDirector 8 with a score of 4.82 out of 5" FileHorse, USA, 2017

"CyberLink PhotoDirector is no longer a "pro-looking" photo editor, but a full-featured professional editing tool with more functionality than many other similar tools that boast of wearing the "pro" tag in their names.", US, 10/2014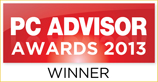 "...it deserves to be a popular choice for editing photos." PC Advisor, UK, 6/2013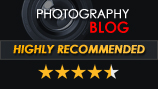 "The attainable price tag and powerful systems make Cyberlink PhotoDirector 5 an attractive purchase if you're a keen amateur or start up professional." Photography Blog, UK, 9/2013
Back To Top