Keep track of your movie collection in CyberLink PowerDVD 8
The Movie Collection in CyberLink PowerDVD 8 displays a list of your favorite movies, movies you own and Movie Remixes that you have created and downloaded.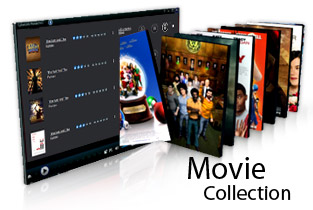 The My Movies tab displays a list of the movies that you own and/or added to your collection on the Movie Info tab. You may also add your favorite movies manually in this window.
The My Movie Remixes tab displays a list of the Movie Remixes that you created in the Movie Remix room or downloaded from MoovieLive.
Movie Collection Tutorial
For more information on the Movie Collection feature within CyberLink PowerDVD 8, please see the Movie Collection tutorial.