Best Vlogging Cameras
Searching for the best vlogging camera? Are you ready to be the next YouTube sensation? To be a better vlogger, you need to upgrade your camera. Sure, you could use your phone, but you want to start with the best camera gear for the best results.
Our expert team gives you the ultimate lowdown on the top Vlogging cameras this year! We picked out the best vlogging compact camera for you based on budget, features, and image quality. We also looked for cameras with Wi-Fi capability and higher ISO for taking awe-inspiring images in difficult lighting conditions. Plus, our vlogging gurus highlighted options best for novices and pros alike, no matter the budget.
From Canon EOS M50 to the Panasonic Lumix DC-GH5S, use this handy vlogging camera guide when you buy your gear. Your channel can become the next Yuya or Dude Perfect with the right professional vlogging camera and exciting HD content.
What to Look for in a Vlogging Camera
When you look for cameras online, don't be overwhelmed by the thousands of options available. How can you narrow down the options?
First, what do you vlog about? A fashionista like Zoella with her DIY makeup vlog has different needs than a Slo-Mo-Guys-inspired YouTube channel. Do you need pristine 4K Video resolution and camera with Optical Image Stabilization to handle slogs through the rainforest? Do you have a crew, or do you produce all of your own content solo? Consider the individual features of each of these top vlogging cameras for your unique YouTube style.
Mirrorless Cameras vs. DSLR Cameras
There are two main types of cameras you will choose from: mirrorless and DSLR. What is the difference?
A mirrorless camera is usually portable and lighter. Many vloggers choose a mirrorless camera if they need a lightweight camera that has professional video. Mirrorless cameras do not have as many accessory options and fewer lens options.
Many vloggers who have great videography skills may prefer the DSLR camera. A DSLR camera will have better quality in low light conditions and advanced lens. The optical viewfinder allows for more complexity in a shot. However, the DSLR camera weighs more, involves more extras, and might not suit vlogging on the go.
Both mirrorless cameras and DSLR cameras take beautiful shots and come at a variety of price points. If you need a lightweight portable camera with basic features, a mirrorless camera will be a great option. If you want intricate shots and don't mind a heavier camera, then you might want to try a DSLR.
Whatever your niche, here are some of the must-haves for your new camera based on certain needs. For example, suppose you have a one-person crew (yourself). In that case, features like a handy LCD screen that flips out to the side and autofocus will save you hours of headache in post-production. Face recognition keeps people in focus - great for man-on-the-street shots and talking head pieces. And you always want to use an external mic when shooting to maximize sound quality.
A Flip-Out LCD Screen to easily view yourself during production
An HDMI Output allows you to see your production via a sizeable flat screen
The Camera Autofocus takes the guessing out of focusing when on the move
With Face Recognition quickly recognize and focus on a subject's face
Touch to focus lets you focus on a subject with a single touch
An External Microphone Jack provides an input for high-end microphones
The OIS (Optical Image Stabilization) reduces shake
A handy Hot or Cold Shoe gives you more options for external devices
With Good ISO Performance produce superior imagery in poor lighting conditions
A Lightweight Body necessary for easy portability
You need Long Battery Life to shoot for more extended periods of time
(Optional) 4K Video Resolution excellent for professional video production
When you shop, think about what you do the most. For example, if you simply record basic vlogs in your bedroom, you might not need 4K Video resolution. Do you need Optical Image Stabilization to smooth out those shaky shots of your talented kids? If you're a novice videographer, find an affordable small camera with autofocus and easy-to-use features. Pros should splurge on high-end cameras with 4K video, professional-level manual focusing features, and the ability to attach external devices like microphones, a flash, and other devices.
Connectivity remains a top feature of the best vlogging video camera. Look for cameras with Wi-Fi connectivity. They allow you to produce and post videos to your channel rapidly. Save time and reach your audience instantaneously.
Finally, don't bother with cameras that are missing necessary features. Do you needOptical Image Stabilization, 4K resolution, or a lightweight camera? List your requirements in order of importance, review your budget, then have fun shopping! To make your life easier, we took the time to find the best vlogging cameras for you.
The 12 BEST Vlogging Cameras
Vlogging with the right camera results in gorgeous imagery and less time spent video editing. And that means more time to VLOG! Canon, Panasonic, and Sony offer the latest technology at several price points. Check out our top picks:
Canon EOS M50 ($700) Mirrorless camera with STM Zoom Lens
Panasonic LUMIX GH5S ($1800) Mirrorless 4K Camera with
Sony Alpha z7R III ($2200) Full-Frame Mirrorless 4K Camera
Canon EOS M100 ($350) Mirrorless with 15-45mm EF-M IS STM Lens
Canon EOS R6 ($2500) Mirrorless Camera
Canon EOS 6D Mark II ($1700) DSLR
Canon EOS Rebel SL2 ($600) compact SLR
Sony Cyber-Shot DSC RX 100 V ($1000) 20.1 Megapixel Digital Camera
Sony Alpha a6500 ($1600) Mirrorless Camera
Panasonic LUMIX DMC LX10 ($400) with 20.1 Megapixel Sensor Point and Shoot
Canon EOS 80D ($1400) Mid-Size DSLR with 180135mm IS USM Lens
Canon PowerShot G7 X Mark II ($700) 20.1 Megapixel Digital Camera

Each of these cameras provides better video quality and focusing capabilities than a smartphone. Whether you have a big budget or a small budget, both Sony and Canon offer quality cameras at a variety of price tags. Experience awesome results with a professional camera.

Best Daily Vlogging Camera - Canon EOS M50

The Canon EOS M50 remains one of the top daily vlogging cameras for beginning YouTubers. Believe it or not, you don't need to spend thousands to own a top vlogging camera.

The one caveat? The Canon EOS M50 battery life runs on the shorter side. Be sure to have extra batteries ready.
$700
Mirrorless
Flip Screen
Mic Port
Short Battery Life
Anti-Motion Blur
Light and Compact
Coming in at around $700, the Canon EOS M50 gives Vloggers more bang for their buck. This handy little camera records great video for vloggers on the go who need both portability and quality. Novice videographers will find it's features simple to use and convenient for many lighting conditions.
Best Cheap Vlogging Camera - Canon EOS M100
On a budget? Aren't we all? When you start as a vlogger, budget-friendly gear that goes a long way can help you achieve the next level of YouTube fame. The Canon EOS M100 has several incredible features at an affordable price of a few hundred dollars. The mirrorless Canon EOS M100 produces HD videos at 60 fps, has an ISO of 25600, and has incredible focus control with a touchscreen's ease.
$550
Mirrorless
Flip Up Screen
No Mic Port
No viewfinder
Touchscreen Focus Control
Wi-Fi Connectivity
ISO 25600
Portable with HD Video
Added Wi-Fi allows you to produce and share quickly. Save a few pennies and produce professional-quality footage you can rapidly share with your fans.
Best Entry-Level Mirrorless Camera for Vlogging - Canon EOS M100
It's no surprise the Canon EOS M100 makes the top of the list for the best vlogging camera on the cheap. Why? With an affordable price, high-quality HD, and easy portability, the Canon EOS M100 offers the best options for the first-time vlogger. With quick connectivity, vloggers can produce professional footage quickly and share with their adoring fans.
Best Mid-Range Mirrorless Camera for Vlogging - Canon EOS M50
If you have a little more green to spend, the Canon EOS M50 has an impressive ISO of 51200 and an external microphone option. Why do you need an external microphone? One of the critical mistakes beginning vloggers make is forgetting the importance of good audio. Your fans will forgive a low-quality image or even too much shaker-cam. But if they can't hear you, then they will tune out.
$700
Mirrorless
Handy Flip Screen
Mic Port
Short Battery Life
Anti-Motion Blur
Portable and Lightweight
What other great features come with the Canon EOS M50 camera? The OLED electronic viewfinder is another extra exciting bonus feature. Record 120 fps slo-mo, too, with your own lens for stunning imagery. When you need a good camera perfect for every situation, try the Canon EOS M50. This standard camera has helped thousands of vloggers and filmmakers create awe-inspiring video.
Best Professional Mirrorless Camera for Vlogging - Panasonic Lumix DC-GH5S
The Panasonic Lumix DC-GH5S produces superior 4K imagery and high-quality imagery, even under the most extreme lighting conditions. Why are mirrorless cameras better for Vlogging? Most vloggers don't have the benefit of a large crew and big budgets. A mirrorless camera offers a small and powerful compact camera option perfect for professional vlogging. Pricing can be steep at around $1800. Still, the Panasonic Lumix DC-GH5S produces detailed world-class video that will set your channel apart from the rest.
$1800
Mirrorless
OLED Live Viewfinder
Mic Port
Multi-Functional Touchscreen
ISO 204800
Heavier camera at 1.5 pounds
Wi-Fi Connectivity
The body comes in at 1.5 pounds, making it a heavier option. In general, vloggers prefer less bulky lightweight cameras. However, if you do not need a lightweight portable camera, then you might enjoy the excellent quality and features of this camera. The Panasonic Lumix DC-GH5S offers a multi-functional touchscreen, Advanced Depth-to-Focus tech, and an ISO of 204800. When you need professional recording, opt for the Panasonic Lumix DC-GH5S.
Best Entry-Level DSLR Camera for Vlogging - Canon EOS SL2
The Canon EOS SL2 captures gorgeous photos and videos. Lightweight and fun, any entry-level vlogger will enjoy sharing great footage with this easy-to-use DSLR camera.
$600
DSLR
User-Friendly Modes
Vary Angle Touch Screen
Mic Port
Lightweight body
Phase Detection
Built-In Wi-Fi
The Canon EOS Rebel SL2 costs around $600, making it an affordable option for entry-level production. A variety of modes like close-up and night provide quick options for easy vlogging.
Best Mid-Range DSLR Camera for Vlogging - Canon EOS 80D
Suppose you want a mid-range level camera with professional video performance and great features. In that case, the Canon EOS 80D will be perfect for you. The Canon EOS 80D reduces natural shaking and includes an 18-135mm lens for maximum versatility and action. When you need the best Canon vlogging camera for a mid-range budget, the Canon EOS 80D will give you the high-quality footage you need.
$1400
Mid-Size SLR Camera
Fully Articulated Flip Screen
External Mic Port
Image Stabilization
High ISO Values
45-Point Autofocus System
Ultra-Precise Focusing
The camera can handle challenging lighting situations and has high ISO values. For focusing, use the camera's 45-point autofocus system for extremely sharp images. Professional level vloggers find the Canon EOS 80D an excellent investment.
Best Professional DSLR Camera for Vlogging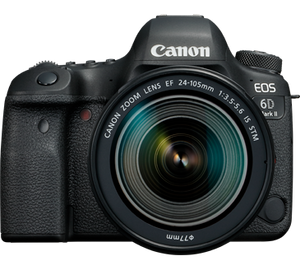 The Canon 6D Mark II has an impressive 26.2 MP Full-frame CMOS sensor, 45 point all cross-type autofocusing system, and an incredible DIGIC 7 image processor. This results in beautiful images under even the worst lighting.
$1700
DSLR
Fully-Articulated Flip Screen
External Mic Port
26.2MP CMOS Sensor
45-Point autofocusing system
DIGIC 7 image processor
The camera comes with an external mic jack and a fully-articulated flip screen. When you need professional-level video, choose the Canon 6D Mark II. Expand your videography skills with this small and powerful camera. Produce clear, crisp images in all lighting conditions with the large 26.2MP CMOS Sensor. Shoot professional vlogs confidently with the Canon 6D Mark II.
When you need the best vlogging camera, trust Canon, Panasonic, and Sony to deliver high-quality products. Use this helpful guide to find the top vlogging cameras no matter what type of camera you choose. Never doubt your footage again. Be confident in your videography. Now go vlog!
If you liked reading this article, you may like reading our ultimate guide to becoming a YouTuber. Check out our blog section to view even more great articles
Was this article helpful?
Recommended Products:
PowerDirector 365

Professional Grade Video Editing.

PhotoDirector 365

The Best Photo Editing Software for Windows and Mac!